This Depression-Era 'Magic Cake' Has a Secret Ingredient
Sylvia Plath baked her mother's tomato soup cake on the day she wrote "Death & Co." in 1962. This was hardly unusual for the poet, who churned out apple pies and hot milk cakes dripping in caramel at a rate sometimes described as fanatical. Despite her critique of gender roles, Plath was an avid home baker who once wrote that she would "study The Joy Of Cooking, reading it like a rare novel."
Since her death in 1963, Plath's recipes have become a source of obsession for many, as well as the subject of a popular Twitter account. Yet neither "Clara's Basic Yeast Dough" or "Granny's Fish Chowder" carry quite the cultural resonance of the tomato soup cake. On paper, the recipe, which calls for one 10.5-ounce can of tomato soup, reads like a spectacular typo. Saline and decidedly savory, condensed soup seems like an unlikely addition to a confection, to put it mildly.
Although many now associate this culinary curiosity with Plath, it predates her by four decades, if not more. The earliest known printed iteration of the cake dates back to 1922, according to research collected by the Campbell Soup Company. By some anecdotal accounts, tomato soup cake was popular among Irish immigrants in New England, although no one can say for sure who invented it.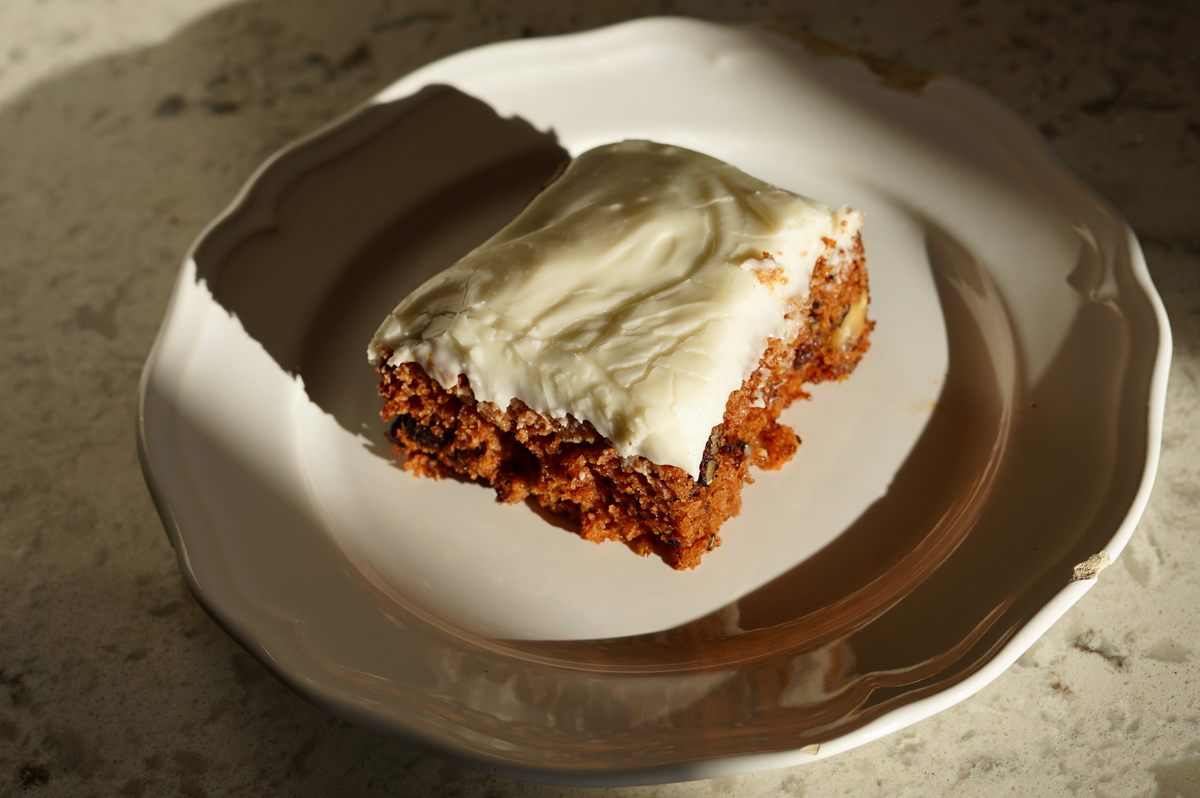 "Spice cake recipes from turn-of-the-century cookbooks call for early forms of baking soda, which require an acid and the presence of heat to create a reaction that generates carbon dioxide bubbles," says Susan Reid, a recipe tester and historical researcher at King Arthur Baking Company. One can easily imagine a resourceful baker running out of buttermilk and rifling through the pantry for an impromptu substitute. "Tomato soup being acidic, it provided the acid to make that reaction occur, the same way applesauce would have done in the soup cake's ancestor," she says.
The cake's popularity skyrocketed during the 1930s and 1940s, when the food shortages caused by the Great Depression and World War II rationing left many American households reeling. As incongruous as it might seem, tomato soup proved to be a secret weapon for home bakers. "Condensed tomato soup has both gelatinized starch from thickeners and pectin from the tomatoes themselves," Reid says. "Both of these keep water in suspension, creating a moist cake."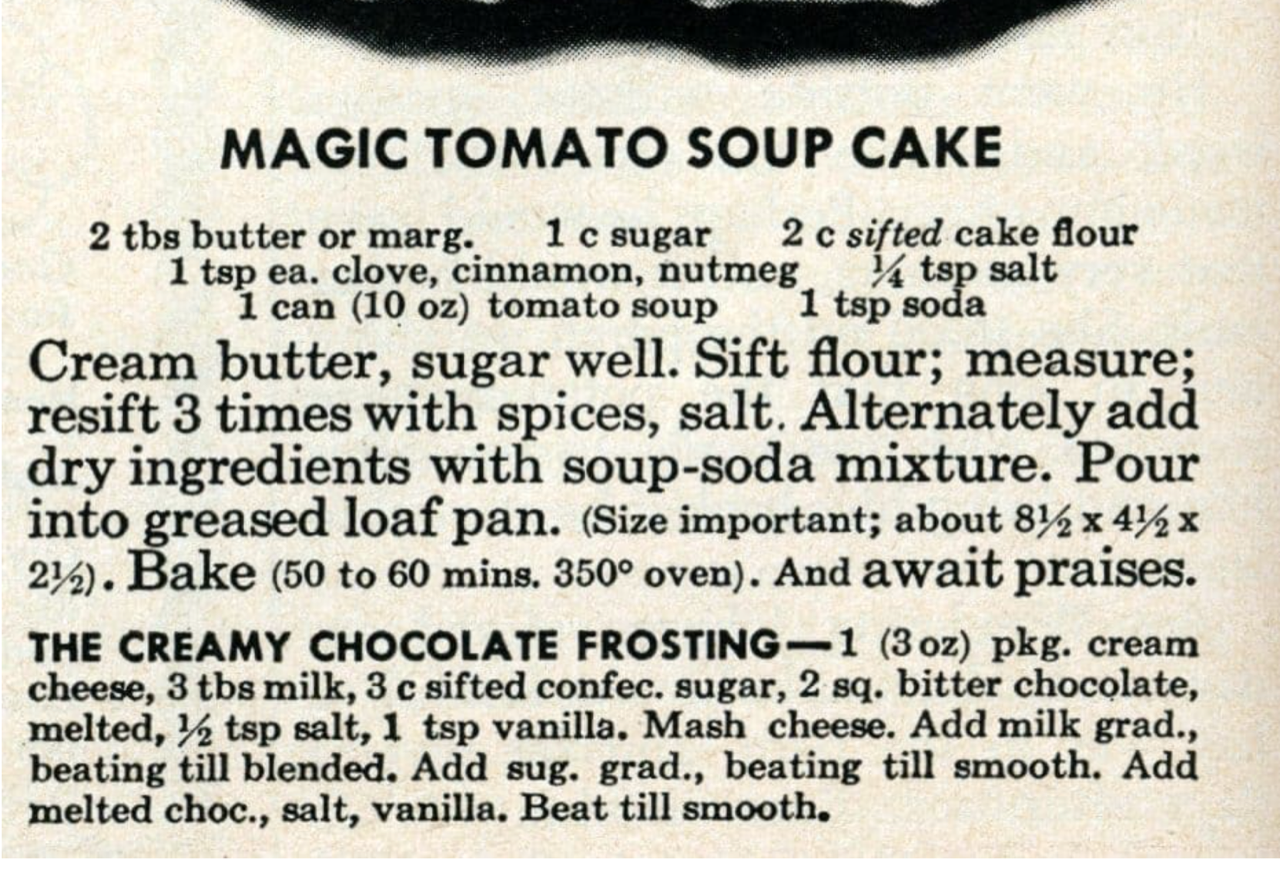 First released by the Campbell Soup Company in 1895, the tinned tomato soup was cheap and readily available, unlike eggs, butter, and other forms of fat and emulsifiers typically used to keep baked goods from tasting like sawdust. "Fat can be replaced by puréed fruit or vegetables—the condensed soup qualifies for that—which is why it's easy to see how reaching for a pantry staple in a time of shortages occurs," Reid says.
Tomato soup cake was just one of the cakes born out of necessity during the series of crises that defined the first half of the 20th century, from the rich, chocolate-y miracle that was "wacky cake"(so named for its absence of eggs, butter, and milk) to wartime "victory cakes." All such recipes were marked by the conspicuous absence of expensive or difficult-to-source ingredients. "Tangential but worth noting is the rise of carrot cake. When sugar was scarce, carrots were used in puddings because of their sweetness," Reid says. While spiced carrot puddings date back to the 18th century, the cake as we know it took hold during World War II, when the average British adult had a weekly sugar ration of eight ounces.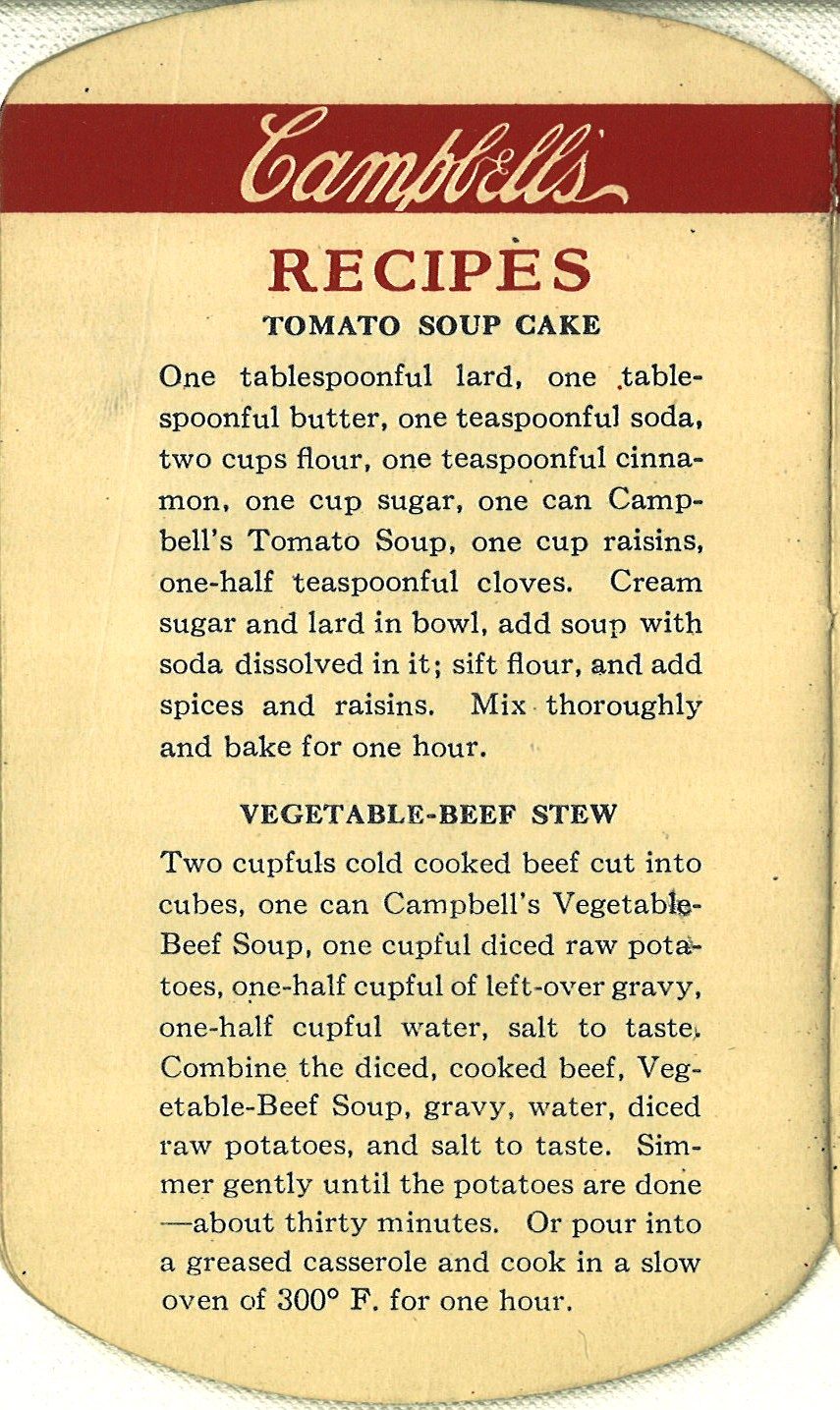 By the time Plath came across the recipe, tomato soup cake had moved beyond its humble origins. According to James Regan, director of corporate media at the Campbell Soup Company, Campbell's pounced upon the opportunity to showcase its product in the 1940s, when their test kitchen began working on variations such as a "Steamed Fruit and Nut Pudding" that called for figs, raisins, and nutmeats, along with the can of soup. "The foundation of this recipe is that of a spice cake, which was much more common from the turn of the century through the '30s and '40s," Reid says. "The ancestors of spice cakes came from England in the form of steamed puddings based on fruits and vegetables."
In 1949, tomato soup cake made its debut in The New York Times. In 1960, Campbell's printed a version of the recipe on the sides of its soup cans and in 1964, the Joy of Cooking ran a recipe for "Mystery Cake," confiding in readers that, "The deep secret is tomato, which after all is a fruit."
To a certain extent, the evolution of tomato soup cake over the decades mirrors shifts in the broader American gastronomic zeitgeist. What started as a relatively lean, eggless riff on an English pudding morphed to suit the prevailing tastes and socioeconomic conditions. In the 1950s, as the economy was booming and Americans were eager to forget about wartime scarcity, eggs and buttery frostings began showing up in tomato soup cake recipes. Since convenience foods, including canned soups, were fashionable, most of these recipes called for the addition of boxed spice cake mixes from Duff's, Duncan Hines, Betty Crocker, and Pillsbury.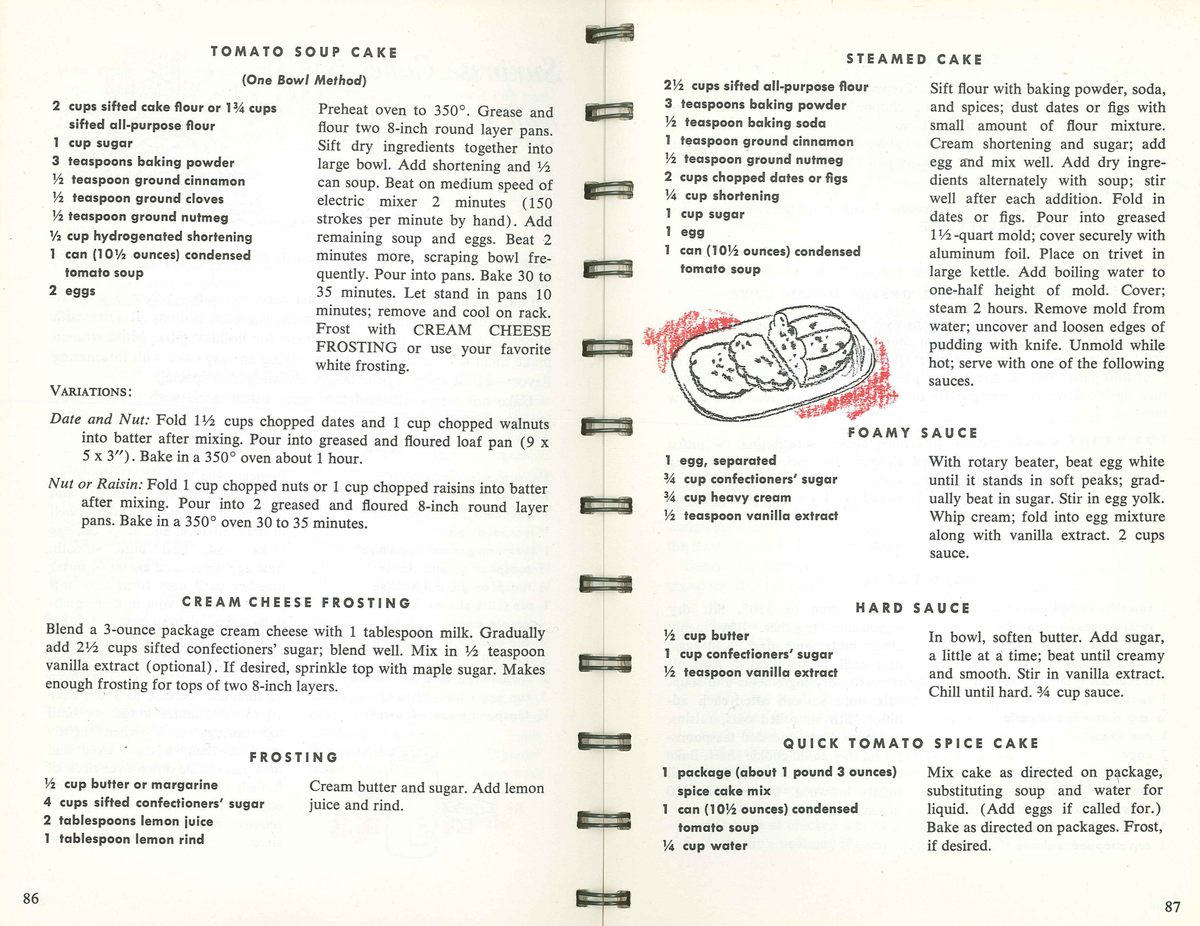 Maria Gamble, the director of the Culinary & Innovation Hub at the Campbell Soup Company, sings the praises of the versatile cake. "It is truly a recipe for all ages and for all seasons, a recipe that has been revised and modified to suit changing needs and tastes, a recipe that has stood and triumphed over the test of time," she wrote in an email.
In 1951, Campbell's ran its first chocolate variation of the tomato soup spice cake, followed by a series of upside-down cakes using everything from canned pineapple slices to peaches in 1954, then a fluffy chiffon cake in 1956 topped with a lemon butter frosting. In the 1960s, when Bundt pans were all the rage, the company poured soup-laden batter into one of the signature ring-shaped molds. Around 1966, a cream cheese–frosted version surfaced, which remains the most popular version to this day.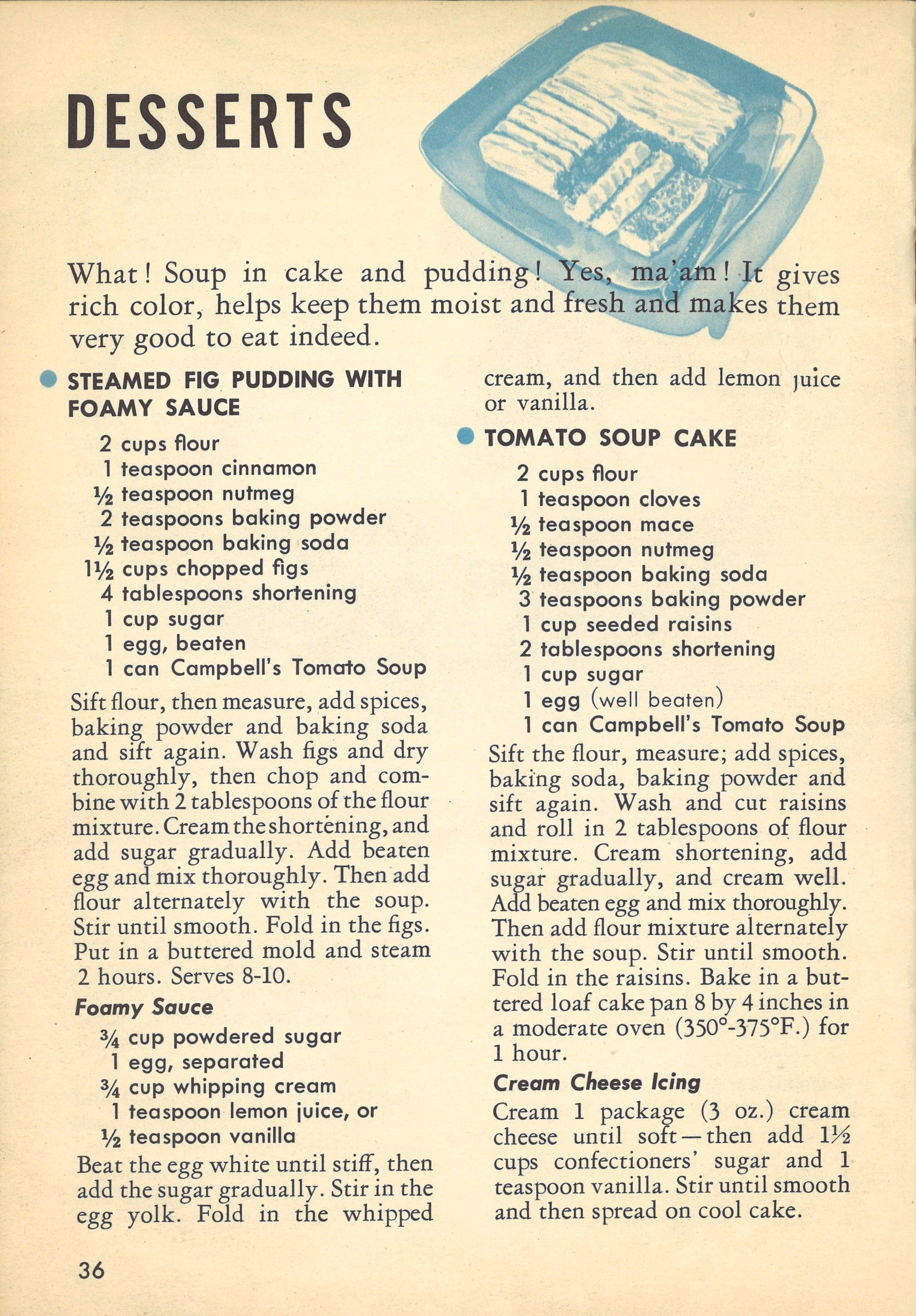 While other recipes born of scarcity, such mock "apple pie" made with Ritz crackers, have faded with the times, tomato soup cake has proven rather resilient. The recipe resurfaces in the pop cultural lexicon every few years—in large part because it really works. Rust-hued and tender-crumbed, the resulting cake tastes nothing like its secret ingredient.
Campbell's says around 65,000 people a year still look the recipe up, a figure that spikes whenever, say, a TikTok influencer rediscovers it. There's a reason that tomato soup cake recipes over the years have often gone by "Mystery Cake" or "Magic Cake." This cake may have been born out of necessity, but it endures because every generation loves a party trick with a big reveal.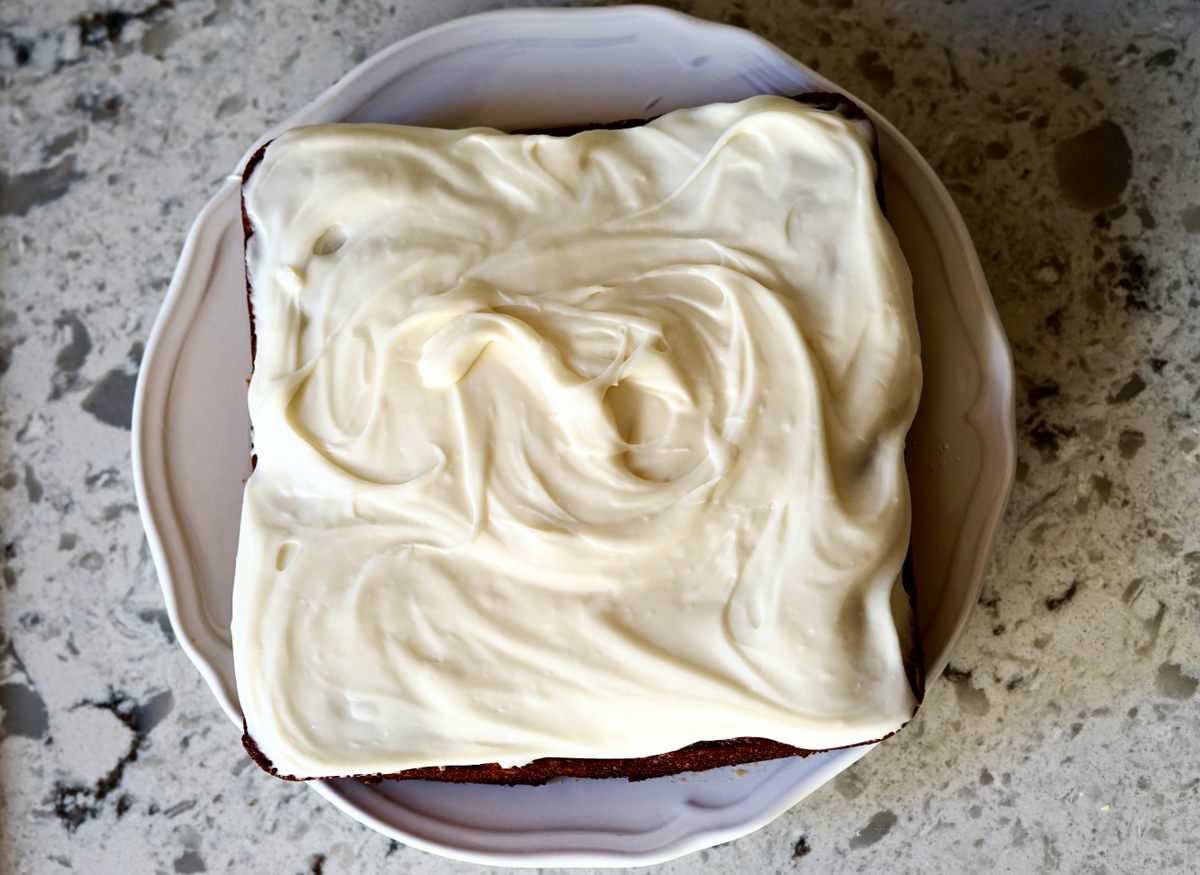 Tomato Soup Cake
Adapted with permission from a recipe from the King Arthur Baking Company

Cake Ingredients
1 large egg, at room temperature
¼ cup vegetable oil
1 cup granulated sugar
1 can (10.5 ounces) plain condensed tomato soup
1 1/2 cup all-purpose flour
1 teaspoon baking soda
½ teaspoon salt
2 teaspoons cinnamon
½ teaspoon nutmeg
½ teaspoon allspice
½ teaspoon cloves
1 tablespoon grated orange zest
¾ cup raisins
¾ cup walnuts, toasted and coarsely chopped
Frosting Ingredients
8 ounces cream cheese, at room temperature
4 tablespoons butter, at room temperature (optional)
½ teaspoon salt
2 cups confectioners' sugar
1 teaspoon grated orange zest
Instructions

Preheat the oven to 350° F. Lightly grease and flour a 9-inch square cake pan.
Mix together the egg, oil, and sugar until the sugar is fully incorporated. Stir in the canned tomato soup.
Add in the flour, baking soda, salt, spices, and orange zest to the wet ingredients and beat until smooth. Fold in the raisins and nuts until evenly distributed.
Pour the batter into the prepared cake pan. Bake for 35 to 40 minutes, or until the edges begin to pull away from the pan and a toothpick or cake tester inserted into the center comes out clean. Remove the cake from the oven and allow it to cool completely on a rack.
While the cake cools, combine the softened cream cheese, confectioners' sugar, orange zest, and butter (if using) in a large mixing bowl and beat until smooth and fluffy. Spread over the cooled cake and serve.
Gastro Obscura covers the world's most wondrous food and drink.

Sign up for our email, delivered twice a week.