Sofritas Recipe – Love and Lemons
Love Chipotle sofritas? Learn to make your own at home! Saucy, spicy, and flavorful, this plant-based protein is delicious in burritos, tacos, and bowls.
Ok, maybe a copycat Chipotle sofritas recipe is a little past due around here (I think sofritas first came out in like, 2014??), but hey! It was worth the wait!
Coated in a blend of roasted veggies, spices, and chipotle peppers, these homemade tofu sofritas are saucy, spicy, and packed with plant-based protein. Just like Chipotle's, they're a satisfying addition to a burrito or bowl, but, in my opinion, they taste even better.
But first thing's first: What are sofritas, anyway?
Sofritas are a vegan protein option at Chipotle Mexican Grill. According to this article, they originated as a collaboration between Chipotle and Hodo Foods, a company that makes really awesome tofu in Oakland, California. Chipotle fries and shreds the tofu before cooking it in their take on sofrito, a pungent blend of onions, peppers, herbs, and spices that is used in Latin American, Portuguese, and Spanish cooking.
I can't claim that the sofritas sauce I make here is an authentic sofrito by any means, but I do think that this recipe yields a fun, fresh homemade version of the sofritas you'd find at Chipotle. I hope you enjoy it as much as we do!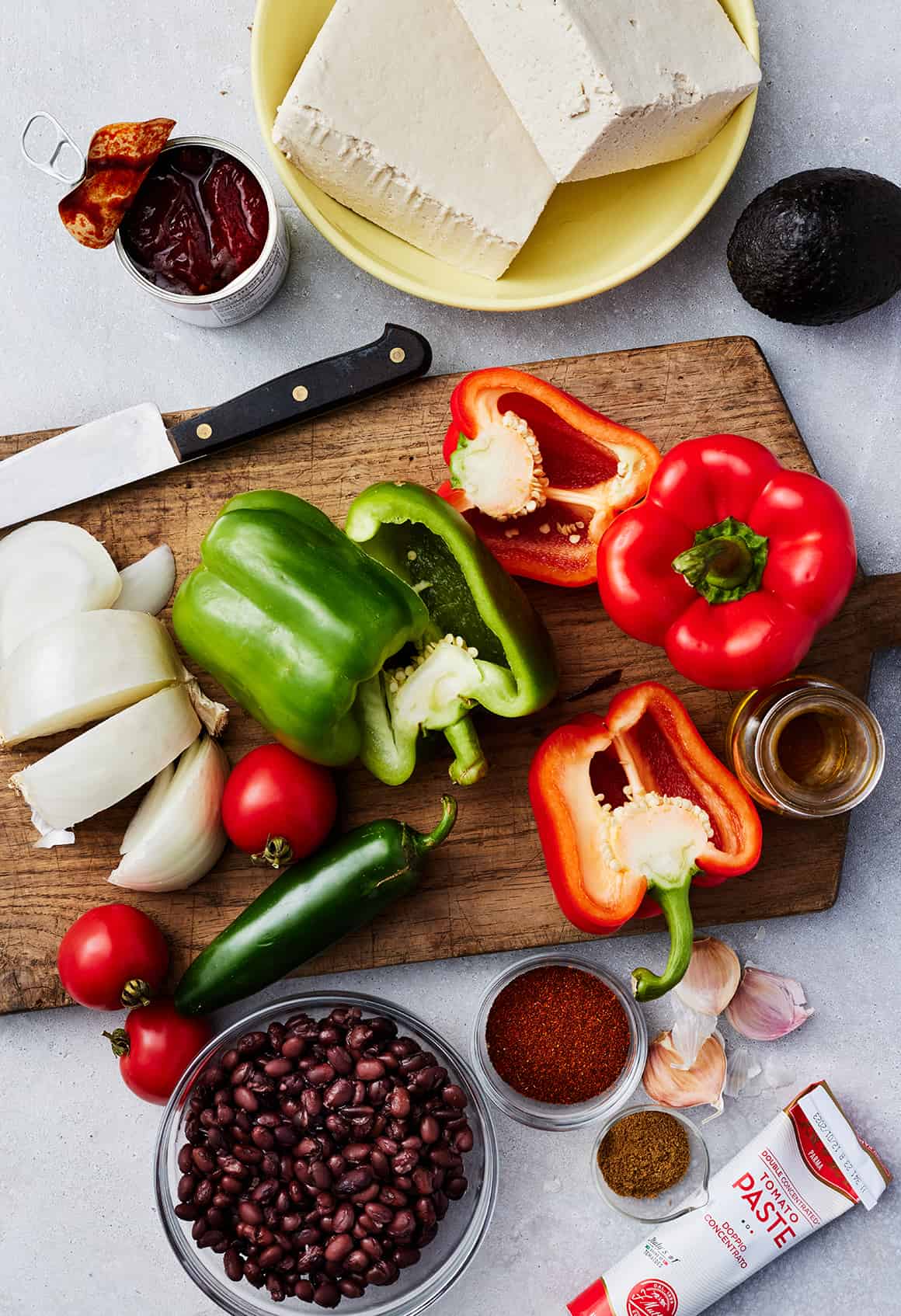 Sofritas Recipe Ingredients
Here's what you'll need to make this sofritas recipe:
Tofu, of course! The firmer, the better. At a minimum, look for extra-firm tofu at your grocery store. Depending on where you shop, you might also see "high-protein" tofu, which has an even firmer texture. That's great too!
Bell peppers and roma tomato – Roasted and then pulsed in a food processor, they give the sauce its wonderful fresh flavor.
Jalapeño – For heat.
Onion and garlic – They add sweet, umami flavor.
Chipotle peppers in adobo sauce – They add smoky, tangy flavor and amp up the jalapeño's heat.
Tomato paste – It helps thicken the sauce so that it coats the tofu.
Chili powder and cumin – For earthy depth of flavor.
Avocado oil – Don't have it on hand? Olive oil works here too.
And sea salt – To make all the flavors pop!
Find the complete recipe with measurements below.
How to Make Sofritas
My sofritas recipe has three main steps:
1. Roast the veggies and tofu. The peppers, tomatoes, onion, and garlic become soft and caramelized in the oven, which adds SO much flavor to the sofritas sauce. Torn into big crumbles, the tofu becomes firm and crisp around the edges, which helps it stand up to the thick sauce later on.
2. Make the sauce. Place the roasted veggies in a food processor with the tomato paste, chipotle chilies, adobo sauce, and spices.
Pulse to form a thick, slightly chunky paste.
3. Simmer the sofritas on the stove. Heat the avocado oil in a large skillet over medium heat. Add the sauce and crispy tofu and use a wooden spoon to combine. Stir 1/4 cup water into the pan, then cook, stirring, until the sauce thickens, 7 to 10 minutes.
As it cooks, the crumbled tofu will soak up the fresh, smoky flavor of the sofritas sauce. Delicious!
Enjoy the sofritas right away, or store them in an airtight container in the refrigerator for up to 3 days. They also freeze well for up to 3 months. Allow them to thaw overnight in the fridge, or pop them in the microwave to defrost.
Serving Suggestions
The obvious move is to add the sofritas to a burrito bowl. Serve them over a bed of rice (or cilantro lime rice) with a squeeze of fresh lime juice and whatever fixings you like! You can't go wrong with any of these:
The sofritas are also delicious in a regular burrito, and they're a tasty plant-based filling for tacos too.
How do you like to serve sofritas? Let me know in the comments!
More Favorite Plant-Based Proteins
If you love this sofritas copycat recipe, try one of these yummy plant-based proteins next:
Sofritas
Serves 4 to 6
If you ask me, these homemade sofritas are even better than Chipotle's! Saucy, smoky, flavorful, and fresh, they're delicious in burritos, tacos, and bowls.
½

white onion

,

cut into 4 wedges

2

red bell peppers

,

halved lengthwise, stems and seeds removed

1

green bell pepper

,

halved lengthwise, stem and seeds removed

1

roma tomato

,

halved lengthwise

1

whole jalapeño pepper

4

garlic cloves

,

unpeeled

2

(14-ounce)

blocks extra-firm tofu

,

patted dry and torn into large crumbles

2

chipotle peppers plus 1 tablespoon adobo sauce from a can of chipotles in adobo

1

tablespoon

tomato paste

1½

teaspoons

chili powder

1½

teaspoons

ground cumin

1

teaspoon

sea salt

,

plus more for sprinkling

2

tablespoons

avocado oil

,

plus more for drizzling

¼

cup

water
Preheat the oven to 450°F and line two baking sheets with parchment paper.

Place the onion wedges, red and green bell peppers, tomatoes, and jalapeño on one of the baking sheets. Drizzle with avocado oil and sprinkle with salt. Place the tomatoes cut side up and the peppers cut side down. Wrap the garlic cloves in foil with a drizzle of avocado oil and place on the baking sheet. Roast for 20 to 30 minutes, or until the peppers and onions are browned (the peppers will be done first), and the tomatoes are soft.

Place the tofu on the other baking sheet, drizzle with avocado oil, and sprinkle with salt. Spread in a thin layer. Bake for 30 to 35 minutes, or until browned and firm around the edges.

Peel the garlic cloves and stem the jalapeño. Place them in a food processor with the onion, red and green bell peppers, tomatoes, chipotles, adobo sauce, tomato paste, chili powder, cumin, and salt. Pulse to form a thick, slightly chunky sauce.

Heat the avocado oil in a large skillet over medium heat. Add the sauce and the tofu and stir to combine. Add the water and cook, stirring, for 7 to 10 minutes, or until the sauce thickens. Season to taste.

Serve in a burrito bowl or try one of the serving suggestions in the post above.