Francis Mallmann goes from cows to cabbages in Green Fire
Known for his 'unconditional love of meat,' the Argentine chef applies his live-fire techniques to plants in new book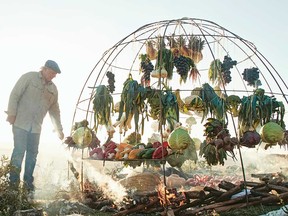 Reviews and recommendations are unbiased and products are independently selected. Postmedia may earn an affiliate commission from purchases made through links on this page.
Article content
Francis Mallmann's style of live-fire cooking is naturally cinematic. Wood smoulders, smoke billows, flames lick, embers glow, juices drip and sizzle amid the backdrop of his remote Patagonian island refuge.
The Argentine chef's cast-iron plancha (griddle), the size of a coffee table, allows for cooking at different temperatures simultaneously. In a technique he learned from gauchos (cowboys), he burns down charcoal for rescoldo, burying ingredients in warm ashes and embers.
Of all the ways he's cooked with fire over the decades, though, Mallmann's dome is perhaps the most eye-catching. Ingredients suspended from an iron frame set over a band of fire, it cuts a striking figure against the wild Andean landscape.
Article content
At the crown, Mallmann might hang pineapples, cabbages, bunches of beets and carrots, even a watermelon. In the radiant embers on the ground, he embeds pumpkins, butternut squash and potatoes.
"We use domes a lot because we like the results of the technique, which is very smoky and tender by cooking things slowly. And as well, the use of the energy because with one fire, you can cook for 500 people," says Mallmann.
The cover of his new book, Green Fire (with Peter Kaminsky and Donna Gelb; Appetite by Random House, 2022), shows him tending to one such feast. The heavily laden structure could feed an army, Mallmann adds; like all his dome events, it's a celebration.
Mallmann has travelled the world with his dome — from the Rockies to Hong Kong — but the peace of Patagonia draws him back.
Article content
"I was raised in the mountains of Patagonia as a kid. And that nurtured my whole life: past, present and future. Because I learned this language of the outdoors, which is in relation to the wind, to the snow, to the rivers, lakes, forests, mountains," he says.
"And that's something that I can't explain. It's just something that sort of invaded me. And I recall this language and this feeling of my childhood whenever I'm travelling, whenever I'm happy, or I'm in adversity, I just go into it."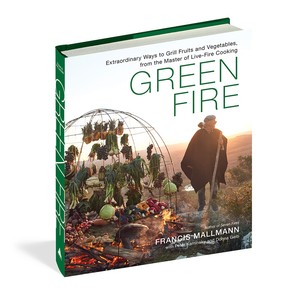 Mallmann left school at age 13. Determined to learn all he could about haute cuisine, he spent his teens and early 20s working at some of Europe's most prestigious restaurants. When he returned to Argentina, he began to establish himself as one of South America's most influential chefs.
Article content
While he cooked with fire at home in Patagonia, at work in Buenos Aires, his "restaurant food was more an Argentine version of fancy European cuisine."
In 1995, when the International Academy of Gastronomy awarded Mallmann the Grand Prix de l'Art de la Cuisine — a first for a South American chef — this started to change. He was happy to be honoured but sad, too.
"I remember going to Barcelona for a few days on my own, and I was walking around the city crying, smiling. And I realized that there was a change coming in my career. That I had to stop being a French chef. I had to stop with that immaculate way of presenting things," says Mallmann.
He found inspiration in the ancient live-fire methods of Patagonia, which Indigenous peoples have practiced for at least 11,000 years. Near his childhood home, for instance, the Mapuche would cook potatoes "curanto-style": layered in a pit with leg of llama, ears of corn — still wrapped in their husks — and hot stones.
Article content
Since he returned to his roots in the Andes, Mallmann has shared his open-fire cooking far beyond Argentina's borders.
"I can't say I invented it because I didn't. I just embraced the past and human history," he says. "But we took this flag with us for a long time and many years. And now it's sort of settled in many kitchens in the world, and that makes me very happy."
Developing his own approach took time, Mallmann explains. It happened slowly and though he's been cooking with fire for many years, he feels as though he just started. "There's always a new gesture. There's always a small message that I get from the fire saying, 'We should do this, we should do that.' It's very inspiring. It's never-ending learning."
Article content
Mallmann's unique style has been featured on Chef's Table and other television shows, and is on display at his many restaurants, including Garzón on the Uruguayan coast, Siete Fuegos in Mendoza, Argentina and Los Fuegos in Miami.
As renowned as he is for his ways with ashes, coals, flame and smoke, he's equally known for his "unconditional love of meat." Case in point: In his 2009 cookbook, Seven Fires (Artisan), Mallmann included a recipe for una vaca entera (a whole cow), which he first saw gauchos roast "hide and all" out on the pampas (plains) in the early 1970s.
In Green Fire, he applies his methods to plants. Each of the first 12 chapters focuses on a different vegetable — starting with potatoes, ending with pumpkin and squash — followed by fruit, cocktails and basics.
Article content
"Almost all the techniques we use for fires are good for vegetables and fruits," says Mallmann. "Like the ashes, I love how smoky they get. The planchas, the dome cooking, the wood oven (horno), the pit (rescoldo). God, they're so delicious — vegetables cooked in a pit with hot stones and covered with earth."
The collection of vegetarian and vegan recipes was inspired by young fans. Over the past six years, Mallmann has received an increasing number of social media messages from vegetarians and vegans who admire his work. "After getting hundreds of messages, I thought, 'I owe them something.' And I decided to do this book."
As a meat lover, writing Green Fire caused Mallmann to reflect on the planet. Though he doesn't expect to become vegetarian, we must find "a new language of cooking," he concludes; one that doesn't depend on factory farms and deforestation driven by demand for meat.
Green Fire, says Mallmann, is a start. Gen Z cares more about the environment than any other group. New generations have different aspirations, and he believes they will change the world. "They have so many ambitions, but (one) is to have a better planet. Something that we didn't have, you know. We were taught to collect things, and I think it's time for a change."